I've shared with you how I managed to change my life from cockroach infested homes, Cripps gangs and police stakeouts and near bankruptcy, to a life of abundance and freedom.
Within the different posts sharing my story, I've shared some insights about what I learned about creation and the Law of Attraction.
Which, I have renamed the Seven Principles of Co-Creation. It is the foundation of my online program – 30 Days to Money Mindfulness.
You're probably wondering exactly what it is.
It's something I was guided to create because I knew how soul-destroying a life of struggle and lack can be.
It gets in the way of you becoming the best version of yourself and leaving a positive impact on the world.
You are worth so much more. Money shouldn't get in the way of living a great your life, it's a tool to help us cover our needs, align with our values, and serve the world in a way only we best can.
But I know money can get in the way of living a great life. And I can tell you that money is very important.
Our relationship to money is very connected to our sense of self-worth. Now money doesn't make us happy, but it sure can help because it gives us greater choices and more freedom to serve and give back.
Here's what I know,
if you are struggling, if you feel fear and lack around money, if you're wondering how you can pay the next bill, or worried about why you keep spending money on things you don't really care about, or feel frustrated and overwhelmed with managing money, then it is absolutely impacting your happiness and your sense of self-worth.
When we feel these emotions we don't feel good about ourselves! It impacts our peace, our health, and our relationships with others.
But, you can definitely change it and it starts with reevaluating your relationship to money.
No matter what your relationship is to money, or any form of creation, my program can help you clear away any blockages, gain clarity around your values and purpose and help you create in a more abundant and richer way.
30 Days to Money Mindfulness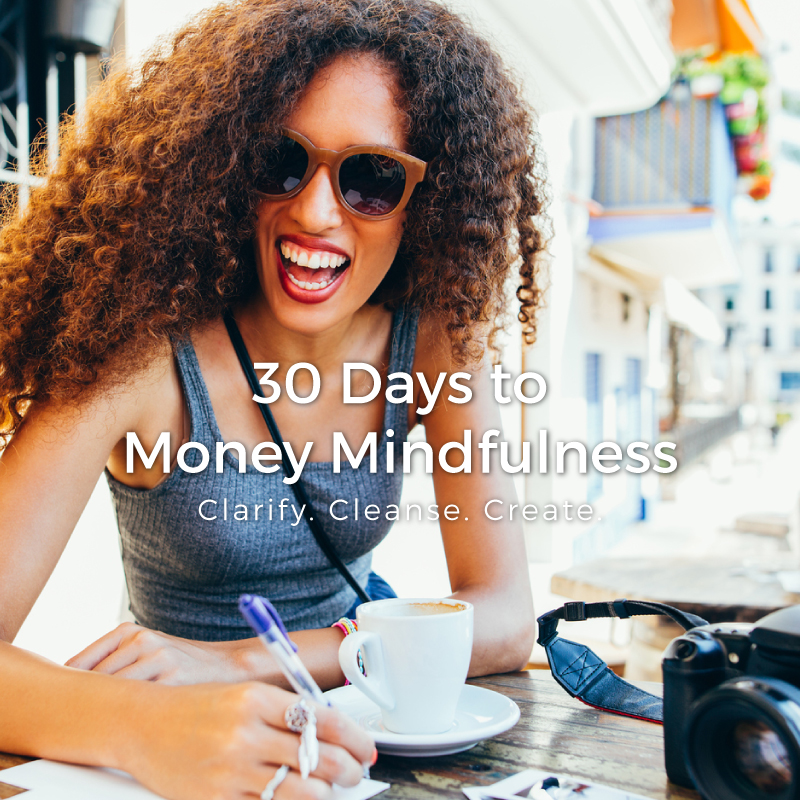 30 days to Money Mindfulness is 6-week online program to help you improve your relationship with money (and create more of it!).
You will get:
Video training and worksheets on each the Seven Principles of Co-Creation
A Cleanse component: 30 Days of simple action tasks designed to help you turn those principles into a daily habit. Daily video insights accompany each task.
Resources Worksheets, cheatsheets and manifestos
A supportive private Facebook community
Each task has been chosen, implemented and practised to make sure it brings results and aligns with those principles.
You will have this toolbox of strategies for life to apply over and over again when you get stuck. For three years I have done this program 2-3 times a year and each time I move up a level and my income and abundance rises.
The program will help you move from limitation and lack to feeling confident, comfortable and secure about where money is coming from, how to value and treat it, and where to spend it (i.e. on things you love!)
If you're worried about money, if you're thinking that money is not the source of happiness, or money will just make you greedy and selfish, this program is definitely for you.
Here are two very important truths I want you to think about and remember:
Money can give you the space and freedom to be a better version of yourself.
Money is just a tool that amplifies who you are – your spirit and core values. YOU are in control of what they are and who you want to be. My course will help you to amplify those qualities that make the world a better place.
This program costs $97. I have a three-month payment plan to help AND it is backed by a 30 day guarantee.
I have had over 400 people join the program and only one person has requested their money back. They didn't even start the program, which was disheartening as I knew it could have helped them!
The program will help you:
Get very clear on your values and desires. These help you to know exactly where to spend your money and why you might be wasting it on the wrong things. It will help you to say no to glittering shiny objects – including raking up credit card debt.
Learn how to embrace your negative emotions as powerful forces guiding your to something better. I show you how to proactively do something with the bad. And I teach you simple ways you can flip the switch and feel joy even when the reality may not be the same. It's not about faking it. You can find ways to actually feel it.
Learn how to uncover your limiting beliefs and plant more empowering ones. Sometimes just being aware of them is enough to make them disappear. The program will help you develop your awareness muscles so you can catch these pesky saboteurs forever more (because they're always lingering in some forms)
Learn simple and easy ways to raise your vibration and keep it there forever more.
Learn how to tap into the magic to help you create your desires. It's fun and free and you're learning to remove those walls of limitation.
Plus, you have a community on board to help raise up your vibration. The group conscience is incredible in helping you manifest. I never had that. I had to figure it out on my own which was harder.
My participants have told me about new job opportunities and directions, raises, more holidays/vacations, and unexpected cash arriving – some even up to $5000!!
Join our first group cleanse of 2018
I'd like to help you start your year off in the most positive powerful way with our group cleanse so you can create your heart's desire and uncover your values and your purpose in life.
I only run the group program a couple of times a year. It's a wonderful uplifting supportive energy that you wouldn't get access to if you did the program on your own.
It's a more powerful way to tap into the magic and share together.
I am very involved in the community during the group program offering support, answering questions and giving deeper insights.
I want you to give this your best go. It can really open your world up to endless miracles and joy. You can check out many testimonials here to see real results and the impact this program has had on people's lives.
Change the way you look at things
My mission is to change the lives of as many people as possible. I understand what it feels like to crave something better, but feel like you don't have what it takes and money is the enemy.
It's not. It's how you think and feel about money, and yourself, that is. I can help you change that in a supportive and nourishing way that involves no guesswork or struggle for you.
Everything I teach you comes from an ethical place of helping you to become a better version of yourself – one that shines joy, love and peace.
This program runs deeper than money really. So if you feel stuck in any area it can help. It's really about getting to know yourself better and empowering yourself to create whatever it is you want. Once you open that chi, the money tends to flow abundantly.
Just to be clear, this is a journey, not an overnight get rich quick scheme. Trust me. I tried them they don't work.
Permanent change happens with thought consideration and consistent action.
It can take time but I am here to help you on that journey for as long as it takes.
Join our cleansing community now.
As one participant from Denmark said
Joining the Money Mindfulness program was such an eye opener. I realized I wasn't the only one feeling guilty about wanting money. The exercises certainly stirred things up and made me face my anxiety and values about money issues. Once I was aware of what was going on in my mind it was turning point. The program gave me great tools to work and change negative thoughts and patterns that aren't helping me. And most importantly, I came to believe that I am not a greedy or bad person for wanting money – and it is totally OK and with in my reach to ask for it.
What's your biggest challenge when it comes to money?