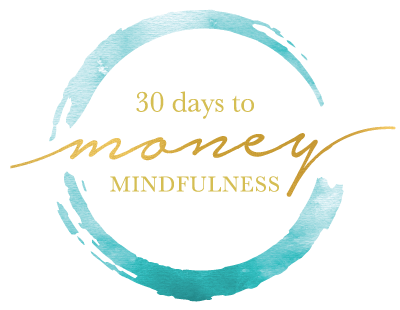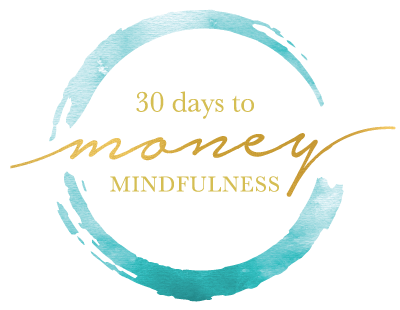 How to feel more confident and
in control of your money in 30 days.
Feeling consumed, frustrated and overwhelmed around money?
Tired of spending your money on things you don't care much about and having nothing left over for YOU?
My 30 Days to Money Mindfulness will move you from limitation and lack around money to feeling confident, comfortable and secure about where it's coming from, how to value and treat it, and where to spend it (i.e. on things you love!)
Often we think our anxieties, fears and challenges round money stem from a lack of financial knowledge, as a result of the GFC, or because of the limited opportunities given to us through our upbringing.
The true source of it comes from what's buried deep within our unconscious and what we've taken on as truth through past experiences and conditioning. The cleanse helps to bring them to light so you change them into something more empowering.
Once you understand this, and learn what to do, the fears and anxieties disappear, the chi flows up, and you take back control of your creation.
Clarify
Get clear on what your values are, what you really want, and how you really feel about money (and yourself!).
Cleanse
Cleanse those negative thoughts, feelings and (hidden) limiting beliefs holding you back and stopping the flow of abundance and opportunity.
Create
Raise your vibration, increase your mojo, and co-create in collaboration with Universal Miracles. Now you're ready to create your soul longings.
30 Days To Money Mindfulness came along at just the right time for me. I knew I had some issues with money and limiting beliefs in this area but I wasn't sure how to go about fixing them. I was also making some big decisions in my business and looking for guidance I was on the right path. This course has helped me with all of this and more.
It's helped me understand and embrace my bigger goals and also helped me feel more clear with the path to reach them and more confident that I will. I understand better what drives me and what is important. However, this biggest benefit from this cleanse is that it's helping me feel more present and happy in the moment - something I have always struggled with. I have a plan for how to keep myself feeling happy when it feels like life is trying to stop me.
I highly recommend this course for anyone who is feeling lost with money, direction or just wants to have an easier time being fully present, happy and grateful in their lives. I don't think it's too big a statement to say that it's changed my life and I believe it can do the same for anyone.
What makes the 30 Days to Money Mindfulness Program so different?
A framework for creation
Learn the seven principles of co-creation – how you create in connected collaboration with the Universe. Apply these consistently to manifest more money, opportunities, and a life in alignment with your values and desires.
A toolkit of repeatable strategies that work
Over 30 practical and simple strategies to help clarify your values and desires, cleanse those limiting beliefs that hold you back, overcome your feelings of fear, and create a reality that you love. They're yours for life.
Support and community
Supportive emails, video insights, PDF worksheets, a membership site and a private Facebook group with fellow participants means we provide you with a supportive and encouraging community to help your positive transformation.
Foundational principles.
Empowering tasks.
Putting you in control of creation.
I'm giving you the processes, the tools, the life-changing principles, and the miracle-making mojo that has helped transform my life from a cockroach infested house, near bankruptcy and $30,000 in debt to owning a thriving business and a lifestyle lived in total alignment with my values and desires.
Fear, lack, struggle and money worries no longer dominate my life. I'm in control of my decisions and my daily routine and live a life full of travel, adventure, time with my family and total freedom.
Past participants have also experienced dramatic changes in their inner world, have manifested money and opportunities, raised their prices, taken on dream holidays, taken control of bad spending habits, and are no longer afraid of their bills.
The 30 Days to Money Mindfullness has been a fun and eye-opening experience, with a great mix of activities, from practical steps to take, self-examination, vision building, and just a little bit of 'woo woo'!
Caz has done her research here in combining all these aspects in order to clear blockages and unhelpful beliefs.
The cleanse has taught me to be more mindful and aware of how my thoughts and beliefs affect the outcomes in my life, and given me some strategies to better manage those.
I feel my attitude towards money is more relaxed and open. And I can also see how these strategies can be used in other areas of my life, not just money.
I would recommend this cleanse to anyone who feels stuck and unable to get past doubt and ill-feeling towards money.
When I started the Money Mindfulness course I had a belief that I wasn't good at or capable of attracting abundance. Within the first few days of the cleanse I set an intention to attract a specific amount of money and received it!
30 days to Money Mindfulness helped me become more aware of my limiting beliefs around money and to create new empowering beliefs. I now know that I CAN attract abundance into my life. I really loved the community and how everyone supported each other. It was a wonderful experience!
What you'll get in the 30 Days to Money Mindfulness program
Pre-Cleanse preparation booklet filled with strategies and tips to help you get the most out of the cleanse.
7 part video training series teaching you the principles of Co-Creation with actionable worksheets.
30 day email series with a new transformative task each day to help you clarify, cleanse and create.
Daily video insights for extra clarity
PDF supplementary material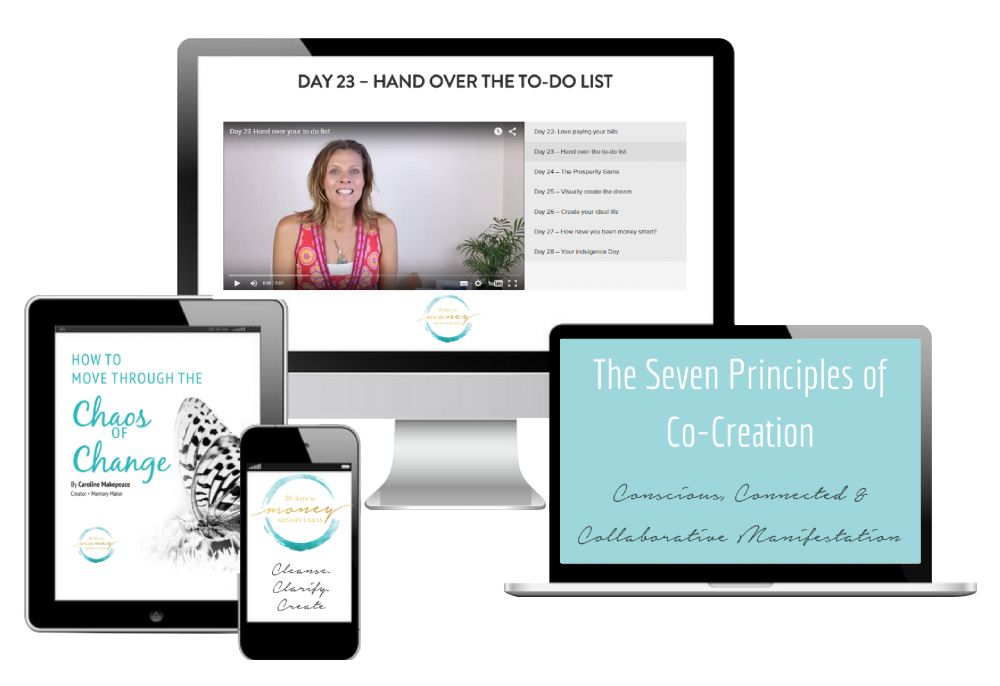 Your easy plan to a new money future
Join the 30 Days to Money Mindfulness
You'll get instant access to the training materials within a membership site and we'll be waiting with instructions on your next steps, how the cleanse practice works, and how you can get the most out of it.
Watch the Training Videos
Learn the seven principles of co-creation. This forms the foundation of the practice and teaches you how you manifest and create what you want (this is way deeper than positive affirmations and vision boards!)
Implement and Practice the Principles
I'll guide and help you implement a daily practice that will create new and empowering habits.The daily tasks will be sent over a period of 30 days and provide a toolbox of strategies, resources and tools to help you gain clarity on your values and desires, cleanse your limiting beliefs and create a life you love.
Connect with the Community
Our private Facebook group is the place for support, shared insights, and cleansing encouragement. It's to connect with like-minded people sharing a similar journey.
A sneak peek into the money mindfulness tasks
Here's a look at some of the topics we cover within the daily cleanse tasks. Each task comes with a video sharing best practices and further insights and clarifications as to how the task helps you cleanse, clarify and create.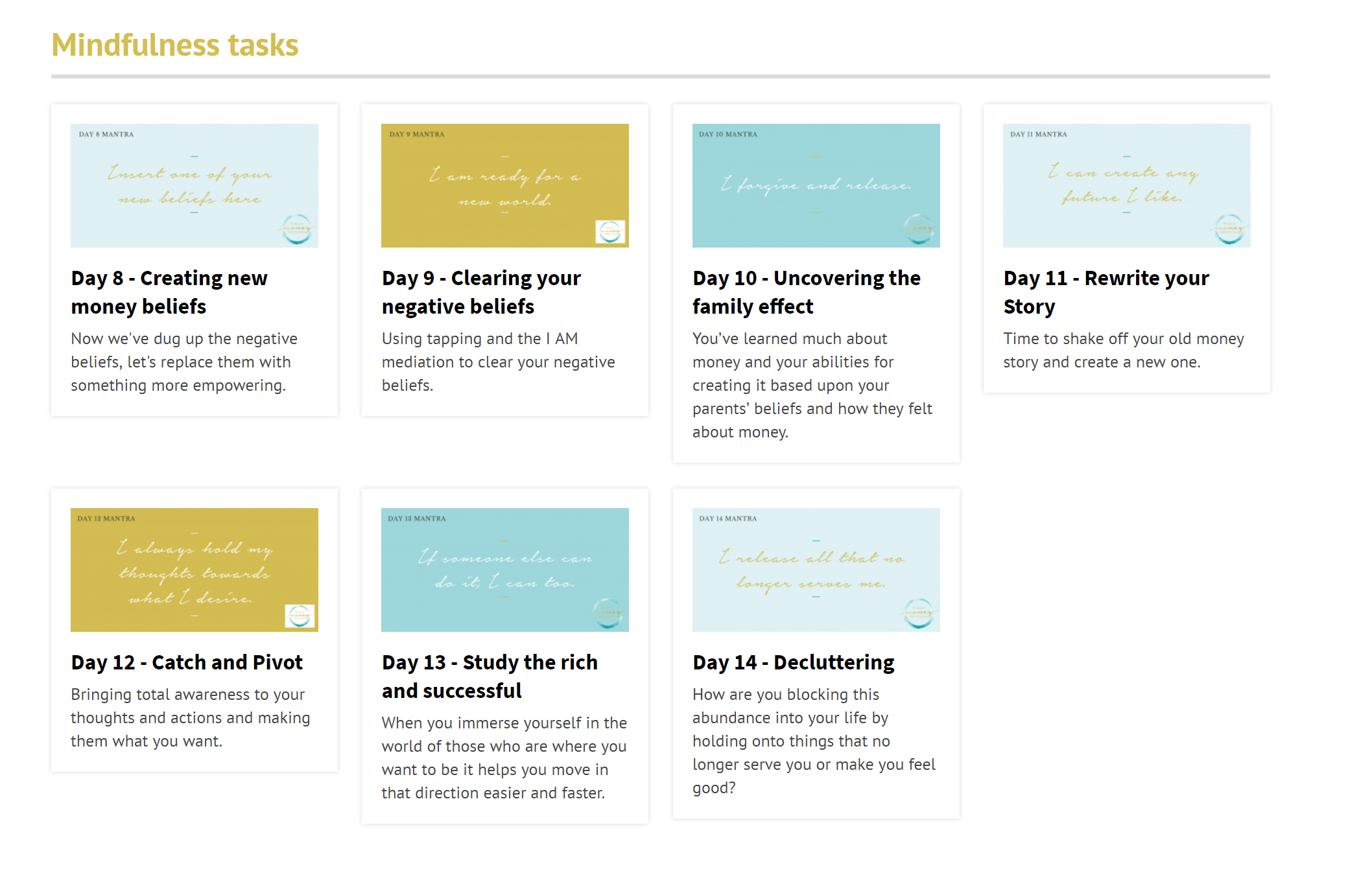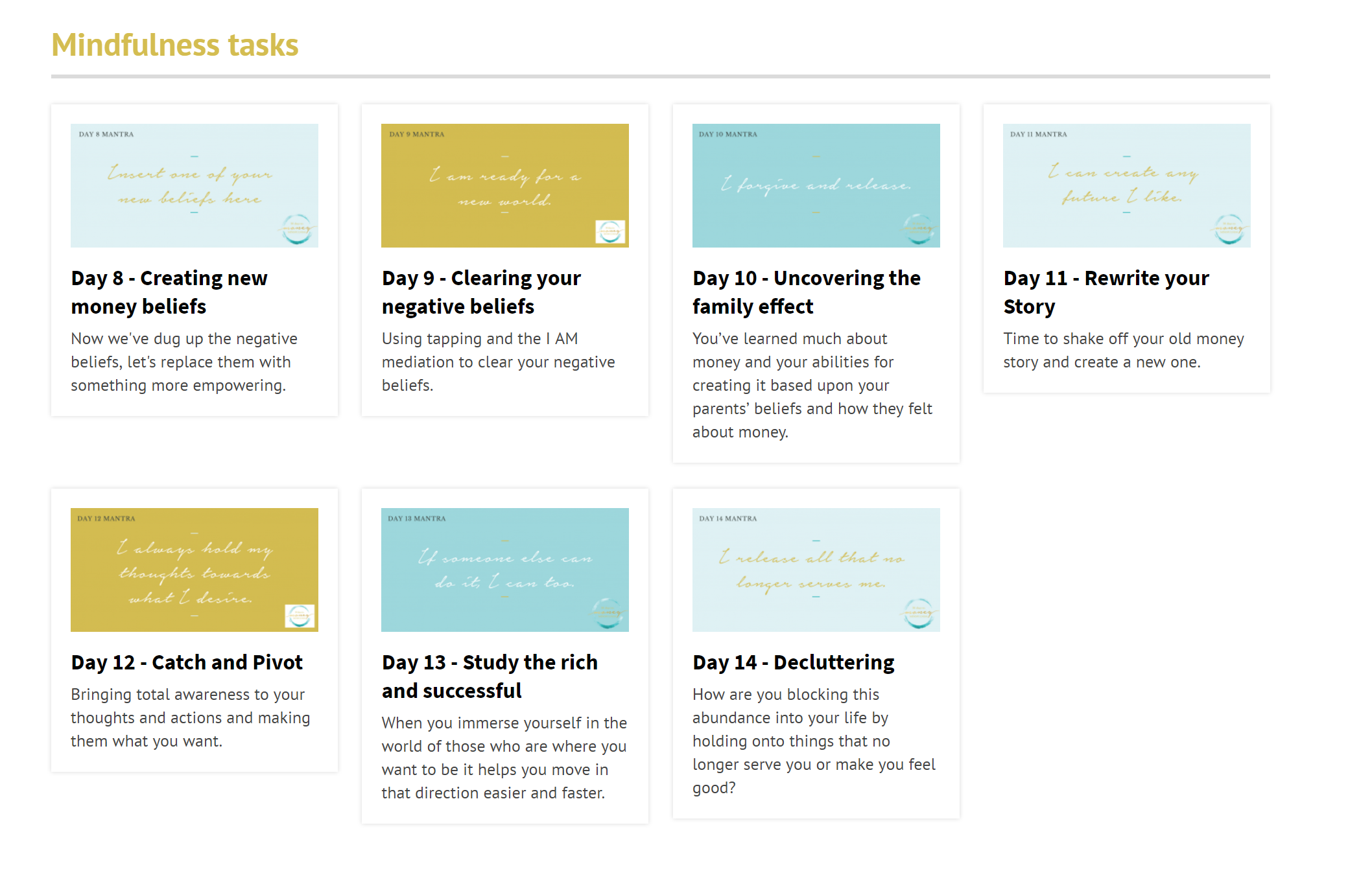 How much pain is money causing you in your life?
How many opportunities are you missing because you don't value yourself?
What does your confusion and fear around the purpose of money cost you in terms of how you spend, save and earn it?
A lack of clarity – and love – around money may be costing you a great deal.
30 Day Money-Back Guarantee
This course is currently closed
Check back to see when it will be available again
I've read/ participated in a lot of these type of things and yours is the only one that really made much difference in my life and seemed to work! I wish you great success!
BONUS
Audio + eBook + 6-Step Plan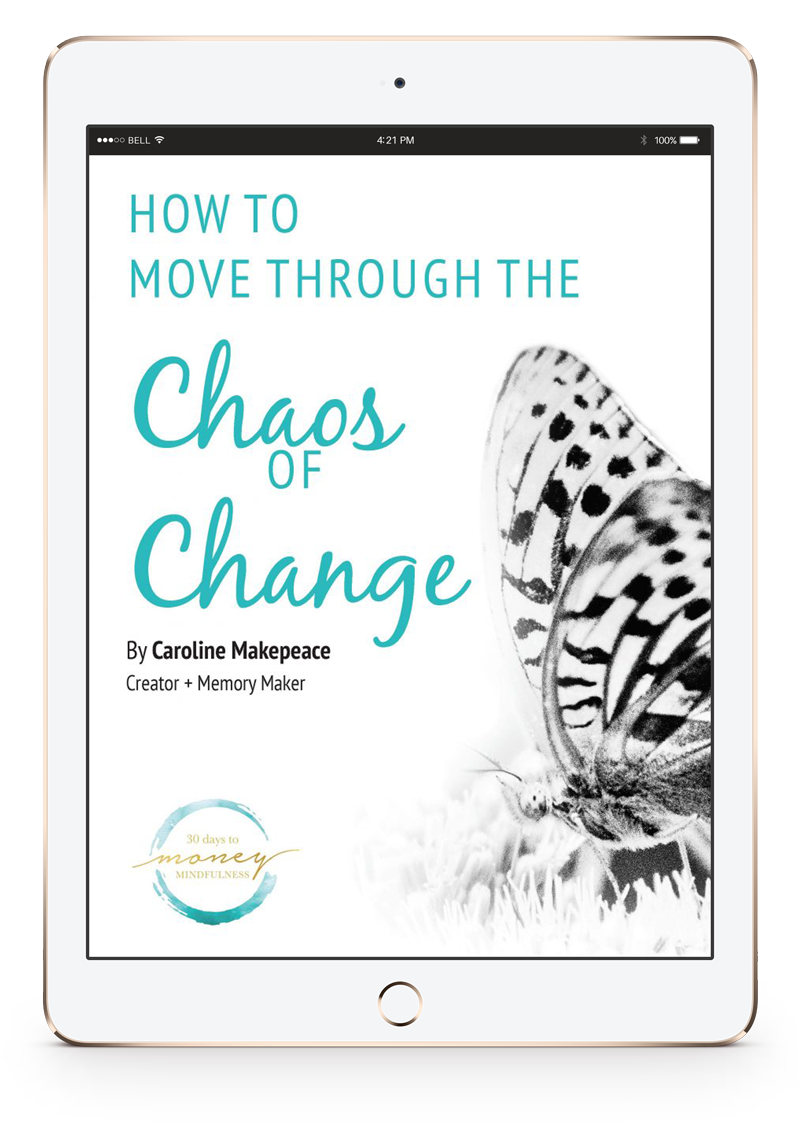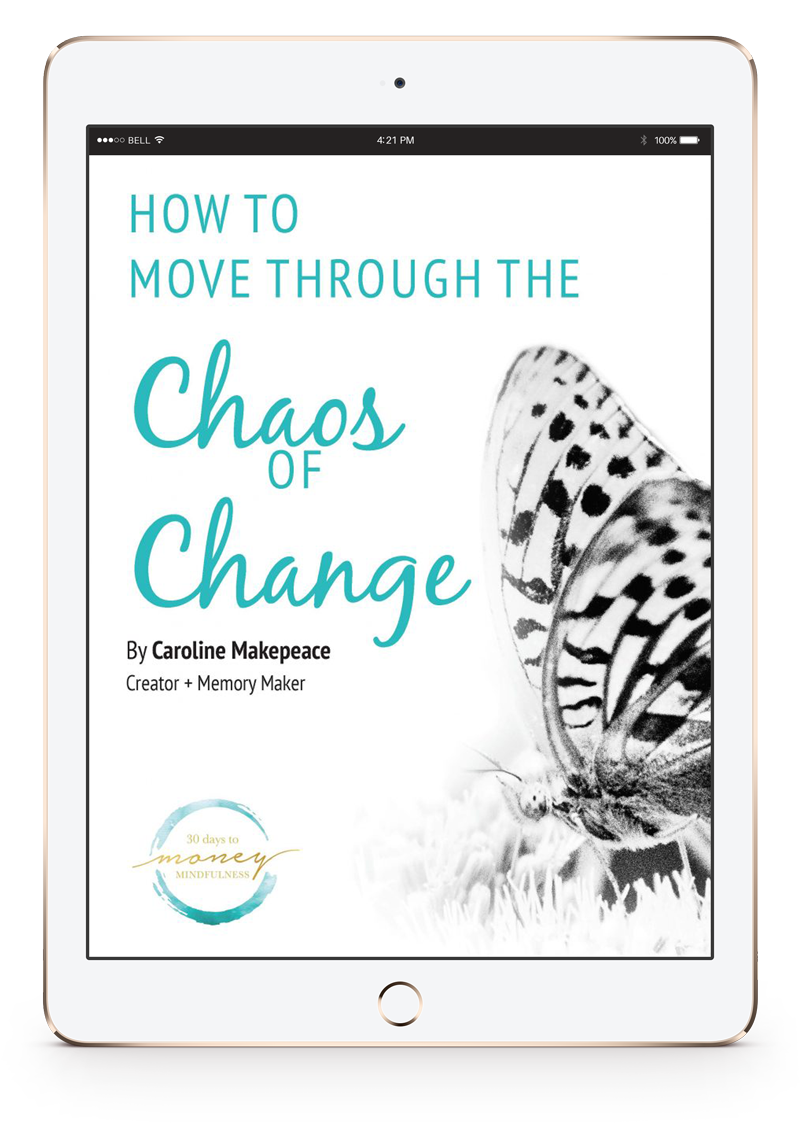 Change is something most people love to avoid. They're afraid of it because it looks so unsettling, painful and uncertain. Better the devil you know right?
What if I told you the falling apart is essential for the new you to be put together? And gave you a plan to embrace it and move through it so you can greet the life you desire waiting on the other side?
In the bonus Chaos of Change audio (and ebook) you'll learn why the chaos is so vital for change and how you can move through it to get to that enriching reward.
No more choosing the devil you know. It's time to embrace the change and choose the life you want!
You'll walk away with clarity and certainty; support and soul-nourishing strategies to put into practice immediately… and have forever more!
Is the 30 Days to Money Mindfulness course right for me?
30 days is a long time, what if I can't commit?
As a mother of two children who travels a lot and runs a busy online business, I totally get your concern about time. I still manage to do this cleanse three times a year. I know you can find the time too.
If changing your money future so you have better choices to align with things you value, you will find the time. Have the intention to commit 15 minutes a day to this course. That's all it takes to change a lifetime.
If you miss a day or two, that's okay, just pick up where you left off. We have past participants who are still working through the cleanse and have found immense benefit despite "falling behind."
I've implemented rest periods through the cleanse to help you have space for reflection, rest and to catch up. You also get lifetime access so can work around those time challenges and do it at your own pace.
30 days is nothing if it gives you a lifetime of ease, greater abundance, and better memories.
$97 is a large investment
So is a lifetime of struggle. This course works. It will change your life. I've spent hours, months and years researching, learning, testing and trialing. I'm saving you the trouble of of figuring it out for yourself. You'll get these life-changing processes for ever + my positive energetic support and physical presence throughout the cleanse.
We've made it easier for you by offering a three-month payment plan. You can do the cleanse over and over again which will continue to bring incredible results.
Plus, if you follow the training and do the tasks, but feel you can't take apply any of the wisdom contained to a brighter future, you can get your money back with our 30-day money back guarantee.
"Until you make the unconscious conscious, it will direct your life, and you will call it fate."